Family is the Backbone of the U.S. Immigration System
Family is why many immigrants have come to the United States for several hundred years.  We are a nation of immigrants. Immigrant tales of reunification are enshrined in most of our memories or even films.  We have traveled far, endured battles, been oppressed, and adapted to new communities, cities, states, and a country.   Today the laws regarding U.S. Immigration are far different from times before: there are quotas, preferences for certain family members, different waiting times for immigrant visas or green cards, special laws for victims, and more.
Permanent resident status, which results in what is called a "green card," gives foreigners the right to live and work in the United States without the time restrictions imposed by temporary nonimmigrant status. In  family-based immigration, the categories of immigrant visas can be divided into Immediate Relatives and family-sponsored Preference Petitions.  Immediate Relatives are not subject to an annual cap or quota based on nationality, while the Preference Petition categories are under the Visa Bulletin, which is published every month by the U.S. Department of State. In summary, these are the classifications of family-based immigrant visa categories:
Immediate Relative: Spouses, Children (under 21 years old) and Parents of U.S. Citizens (who are 21 years of age or older).
First Preference: Unmarried Sons and Daughters (21 years old or older) of U.S. Citizens.
Second Preference (2A): Spouses and Children of Lawful Permanent Residents.
Second Preference (2B): Unmarried Sons and Daughters (21 years old or older) of Lawful Permanent Residents.
Third Married Sons and Daughters of U.S. Citizens.
Fourth Preference: Brothers and Sisters of U.S. Citizens (21 years old or older).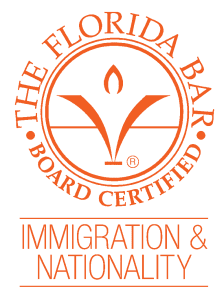 Ask Us
Your Question
Contact:
Ingraham Building
25 SE 2nd Avenue, Suite 828
Miami, Florida 33131
Toll-Free: (800) 792-9526
Miami-Dade: (305) 792-8677
E-mail: [email protected]
Skype & WeChat:  visa-lawyer
© Copyright 2015, HarrisLaw P.A. All rights reserved.
MEMBERSHIPS & AWARDS